FAQ - Support
-
Contact Us
-
Supported Formats
Fire TV
-
Roku
-
Chromecast / Google Cast
-
XBOX / PS4
-
DLNA & UPNP
-
Samsung TV's & Blu-Ray
-
Sony TV's & Blu-Ray
-
LG TV's & Blu-Ray
-
HiSense TV's
-
Windows, Linux & Apple PC's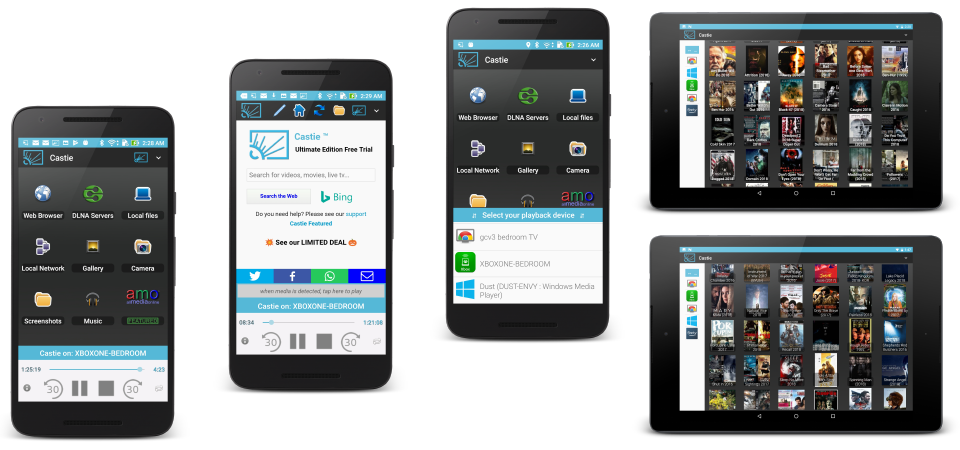 Castie works great on many Android devices including Galaxy tablets and phones, the Google Pixels, or Sony, Motorola and LG phones. In all, Castie supports over 15,000 Android devices alone and tens of thousands of other devices.
Key Features:
Browse the web and automatically find media to playback, simply tap to play!
Popular websites like PopcornFlix, Vimeo, Aol, Break, YouTube, CollegeHumor, and DailyMotion supported.
Choose your own search-engine including Bing, Google, and DuckDuckGo.
Support for new video websites added daily and on request of our users.
FREE Built in Ad-Blocker for worry free surfing.
Hassle-free surfing since we block Ad's, Miners and Tracking services.
Browse your home network and play via Samba or DLNA / UPNP file share.
Send your favorite photos from your phone or tablet to your TV.
Supports subtitles when/where supported on the playback device.
Full playback control including seeking to a position in the media.
Intuitive hassle-free interface with many extra options (LONG-PRESS an item to see!).
Bookmark items like videos, music, and websites to return to easily.
Download items to your local device to save for playback later locally or via Castie.
Automatic Artwork search for files without artwork (IE: videos, music).
Playlist support regardless of device type.
Find something you want to share? Secure-Sharing option allows sharing of files with friends and family.
Support for avi, mkv, mp4, ts, and hls (Live-TV) videos where supported on the playback device.
Support for lossless flac audio, mp3, pcm, ogg, and other audio formats where supported on the playback device.
Support for industry-standard image formats like jpeg, gif, png, and bmp where supported on the playback device.
Support for Android phones, tablets, TV Sticks, Android boxes, and Android TV devices.
Castie is optimized for the latest versions of Android: Pixel, Pixel XL, Galaxy, HTC, LG, Huewai, Xiaomi, Galaxy Tablets, and Android TV devices like the NVIDIA Shield or TV's with Android embedded.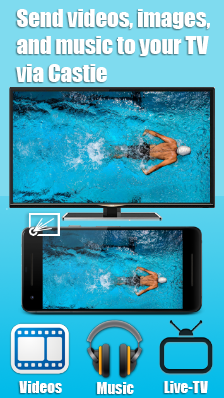 Surf the web, your local device, or your network and "tap to play".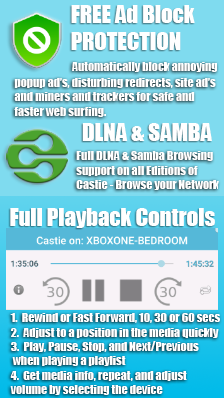 Full playback controls, and AD blocking built in.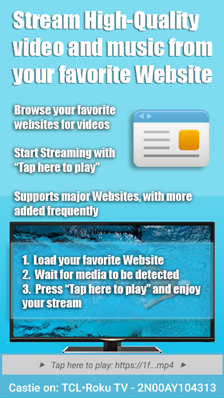 Downloading and bookmarks for paid users.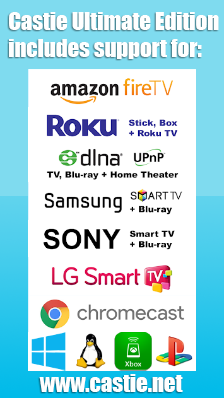 A Castie version for any device.